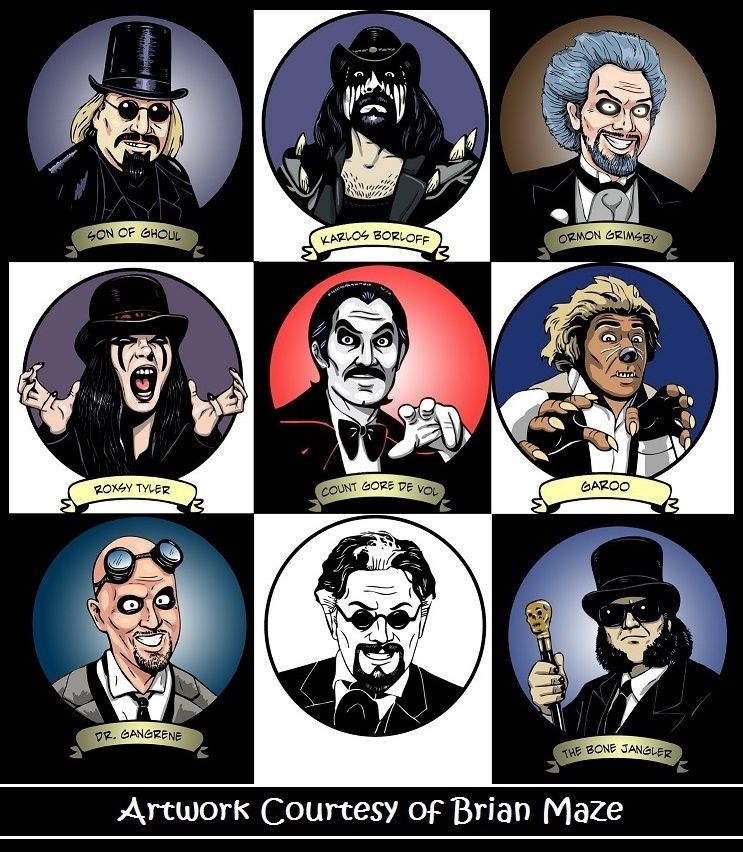 The story so far…
Throughout the country, an almost uniquely American art form staked out a place for itself in television market after television market. For almost 50 years the Horror Host entertained and inspired generations of geeks of all ages all across the land. By the time the 2000s were approaching, the horror host had begun to disappear, seemingly ready to become extinct, thanks to the quest for maximization of corporate profits. But two new options emerged, one having actually been there for some time, one a new and growing medium, which would help give the horror host a new lease on life.
The sad fact of television as the 2000s dawned was that throughout the majority of the United States the idea of truly local television was dead. The local VHF stations had gone down first, and then the UHF stations followed suit. The general outlook for the horror host looked more than a bit grim.
But one host looked to the internet in 1998 and began staking out a claim on his corner of the information superhighway. Count Gore de Vol decided to stream on the web at a time when streaming audio and video was most nightmarishly slow thanks to the restrictions of dial-up. As broadband grew, so too did his show's website. Not only did it give him the ability to once again entertain old fans, but now he could reach new fans all over the world. This expansion of the internet's ability also led to the creation of the horror host underground, a website that would work as a directory of hosts as well as allowing new hosts to connect with one another. Yeah, there really were new hosts out there.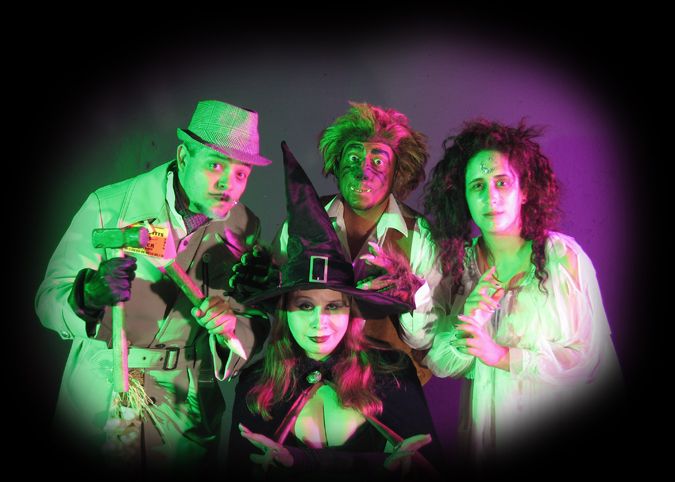 One of the things that the new media gave anyone who might want to use it was this little thing called public-access television on cable. There would be no pay, there would be no real advertising, and there would be no movies that were not public domain. Without a TV station behind them, this also meant that the new hosts would have to pay out of pocket for copies of those public domain films. They would also have to cover all production and editing on their own. That was definitely a downside for the new hosts, but it also meant that the hosts who were doing it had to have an incredible passion for it. With the new wave of hosts, and the older hosts who had decided to keep doing what they had for so long now loved, that passion came through in spades.
Horror hosting actually began to enter into almost a new renaissance. Across the country and in almost every market, the horror host was returning, seemingly by sheer force of will, and finding audiences again. From one coast to the other the likes of Penny Dreadful, Jebediah Buzzard, Karlos Borloff, Dr. Sigmund Zoid, Mr. Lobo, The Bone Jangler, A. Ghastlee Ghoul, Halloween Jack, Son of Ghoul, Dr. Sarcofiguy and a legion of others were entertaining new fans and delighting audiences at live events. And right there next to them were some of the old guard like Gore de Vol, Dr. Madblood, and others, still entertaining old and new fans alike.
Conventions like Horrorhound Weekend began to host large gatherings of horror hosts, still other conventions invited them as guests, local events once again started to feature them, and suddenly, in at least a few markets, hosts made their way back on the local television dial. Despite having to do it themselves the new wave of horror host were preserving the tradition, and doing it in style.
The entertainment industry had been noticing all this activity. Fox Movie Channel had tapped Neil Gaiman to act as a traditional host for their 13 Nights of Fright in 2004, other hosts were getting a few special gigs each year, and the MST3K crew was bigger than ever having taken their show on the road.
Slowly the movement got bigger. Towards the end of the first decade of the 2000s, it seemed like hosts were getting noticed everywhere. Documentaries like American Scary, Virginia Creepers, Every Other Day is Halloween, and Hi There Horror Movie Fans looked with loving eyes at the days of old and the new wave of hosts. Hosts at conventions were selling merchandise, DVDs of their shows, and products like Horror Host Collector Cards and Brian Maze's 13 Hosts were becoming available to anyone who wanted them.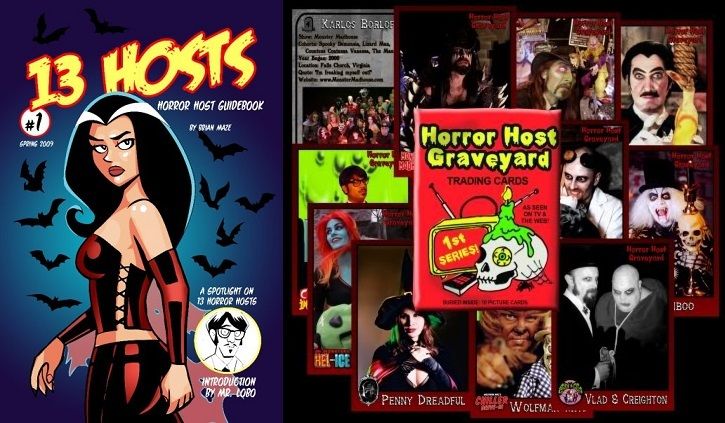 Some hosts began turning to the new blood in the filmmaking world to form mutually beneficial relationships. Independent filmmakers could supply horror hosts with fresh materials, ending the need to show one of their limited supply of public domain films yet again, and the hosts were able to offer exposure and publicity to up and coming creators. Dr. Sarcofiguy and Boo De Pest hosted Spooky Movie Television in the greater DC area, showcasing independent talents and laying the groundwork for Curtis Prather's annual Spooky Movie International Film Festival, while Gore de Vol would expose new talents to the world on his website as a part of his New Blood Showcase.
In many areas it turned out to be a good deal not only for the hosts and the filmmakers, but even more so for the fans. One thing fans of horror, science fiction, and fantasy continually ask for is something new, something different, and something that's not following the studio's flavor of the moment trends. Along comes a horror host, in the same place (almost) each and every week, delivering exactly that to anyone willing to tune in and watch.
Still other hosts would begin to form working relationships with the filmmakers, acting in various roles ala the days of Chilly Billy Cardille appearing in George Romero's Night of the Living Dead or Dick Dyszel (Gore de Vol) appearing in Don Dohler's early science fiction films. Some hosts, such as Dr. Gangrene, were even being tapped to add their voices to narrations on new rock music CDS.
By the time we were entering into the second decade of the 2000s, hosts were even making national comebacks. Elvira signed up for a syndication deal, and Svengoolie found a regular Saturday night home on MeTV, bringing back one aspect of the old days that some of the new media platforms had done away with. Horror hosts were once again becoming appointment television. You knew when they were on, you knew what they were showing, and, barring recording devices, you had to be there when the show started.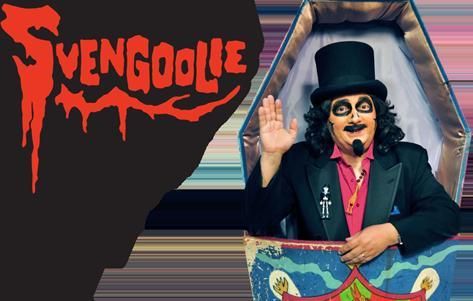 But for each step forward there seemed to be at least a few steps back. The horror host seems to be stalling a bit. Not really hitting a plateau, but honestly just stalling. The guys and gals in greasepaint and funny costumes are still there on their sets, still turning out new and entertaining shows, but it feels like there's more room on the entertainment landscape for a return to what they once were, a hole in the culture that's not being filled.
The horror host is a part of Americana. They're a part of our cultural landscape that's been a source of both entertainment and inspiration for decades now. And hosting itself is the thing I've referred to as an art form multiple times now. When done well, when done right, it's absolutely an art form, and one that is almost exclusively American in nature. I could say that that is a good reason to support them, but the truth is that the best reason is that you might just find yourself being entertained by their antics.
Do yourself a favor. If you aren't watching your local horror host, find your local horror hosts, tune in, and see what they're offering. Check out the others that are out there as well. Spread the word about the ones you enjoy. Who knows, depending on your personal skill sets, you might even get to play in their sandbox with them. I can tell you from experience, mine and that of my two young children, that it's more fun than you might think.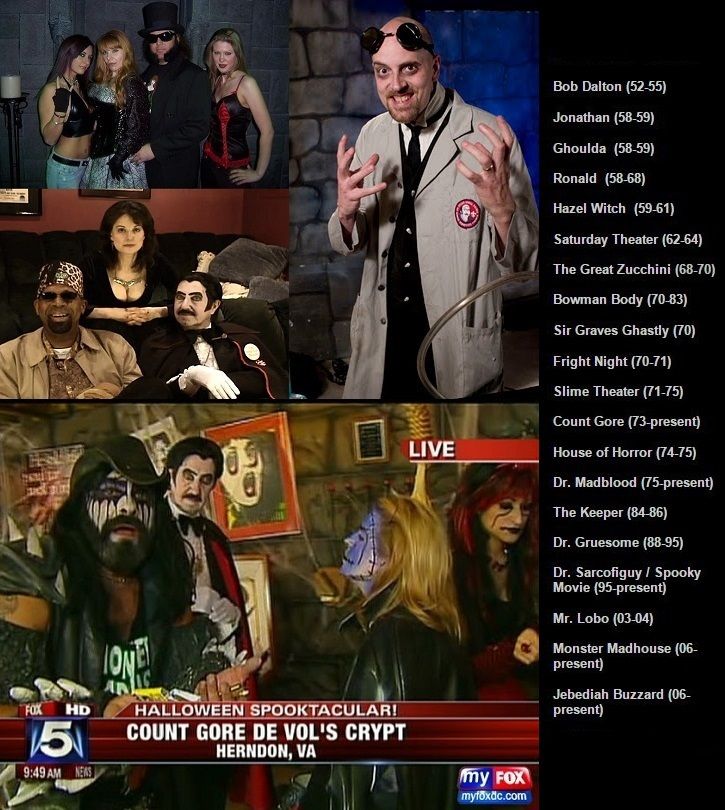 All hail the horror host.
Jerry Chandler is a lifelong geek, dabbling in just about every genre but finding science fiction and horror to be his primary comfort zones. He has also had a lifelong devotion to that form of entertainment known as professional wrestling. When not worrying that his coworkers are going to inflict bodily harm onto him over his sense of humor, he enjoys hitting the convention scene or making indie films with his friends. He also finds talking about himself in third person to be very strange.